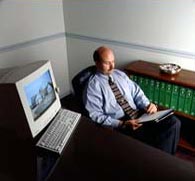 As founder and owner of Hunkins Home Improvements, a company specializing in cosmetic and necessary modifications to properties, Joe has accumulated a wealth of knowledge useful for those looking to buy a Home as well as assist you in your Commercial Facility search. His vast understanding of construction can be called upon when questions about cosmetic and structural issues arise. In addition, his extensive knowledge of the local real estate market can assure you of getting a fair deal.

Free Relocation Package
If you are new to the Seacoast area, Joe has put together a complete relocation package to help make the transition easier. It includes:
A complete map of the Seacoast area.
A list of town profiles and a chart of town property taxes.
An insightful, step-by-step relocation checklist, including things you'll need to do in your current home, things to take care of in the Seacoast before you arrive, and the things you'll need to handle once you get here.
Referral listings for Joe Hunkins' hand-selected preferred partners of local professionals, including loan officers, title companies, home inspectors and insurance agents.
A questionnaire you can fill out and fax or mail back to Joe's team so they can send you customized information on exactly the type of property you're interested in.
Click Here to Request a FREE Relocation Package
Links of Interest
Low Rate Home Mortgages www.PresMortgage.com

Town of Greenland, New Hampshire site www.greenland-nh.com

City of Portsmouth, New Hampshire site www.cityofportsmouth.com

Guide to the New Hampshire Seacoast www.seacoastnh.com

New Hampshire State Government www.state.nh.us

School Research and Data www.schoolmatch.com

Home Inspection Information www.rjhomeinspection.com

Mortgage Arrangements www.PresMortgage.com

Title Insurance Information www.stewart.com

Moving Arrangements www.wchuffmoving.com

Local Weather www.weather.com/weather/local/03801

Fine Dining: The One Hundred Club www.OneHundredClub.com
Sanders & Karcher, CPAs www.hsjkcpas.com
Custom Handmade Lighting www.NorthEastLantern.com
Local Salon www.Studio-Clips.com
Exterior Pressure Washing www.EliteNH.com
Exeter Land Contractors www.ExeterLandContractors.com
Insurance www.TobeyMerrill.com
---

Hunkins Real Estate, Inc.
390 Portsmouth Avenue
P.O. Box 5, Greenland, NH 03840
(603) 433-2690 | (800) 842-7433
Fax: (603) 431-2080
Hosting by ad-cetera